Known as the birthplace of the modern gay rights movement, New York City is the world mecca for LGBTQ nightlife (don't @ me). Nightclubs, dive bars, quirky neighborhood joints, traditional spots, and unlikely venues make up the city's queer going-out scene, with dozens of attendant events and pop-up parties further enriching the landscape. Each night presents the nearly impossible challenge of where to party, drink it out, or just relax.
Greenwich Village is famed for its high concentration of gay bars, but a combination of rising rents, decreasing stigmas, and increased diversity in the LGBTQ scene has laid the foundation for unique gay bars to become neighborhood staples citywide. And though it may be a challenge to venture from the comfort of your neighborhood gay bar, these LGBTQ bars and clubs across the city offer some of the best queer nightlife in all five boroughs.
Recommended Video
Hooters Is Opening a New Restaurant Chain That's Hiring Guys
West Village
Ladies' choice for a classic scene
One of the last remaining lesbian bars in NYC, Cubbyhole is beloved by LGBTQ women across generations for its charming, slightly grungy, minimally eccentric fashion. The narrow dive is typically packed with female-identifying people playing the jukebox and ordering cheap drinks from happy hour until well after midnight. On slow nights, bartenders may buy the room a round, or order in pizza (Cubbyhole doesn't have a kitchen; outside food is welcome). Expect spontaneous Melissa Etheridge sing-alongs and erotic balloon animal styling by drag queens. No straight boys.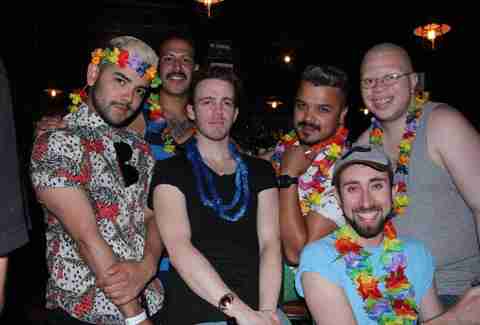 East Village
An easy hang to start -- or end -- your night
Having risen from the ashes of a dive bar devastated by fire, this ever-cool hangout dates back to 1999 -- as does some of its music. Phoenix endures as a top spot to meet Tinder dates, assemble your crew, or just dance your work week worries away at a Friday night party. The cool downtown crowd livens up with the occasional drag performance or DJ set. Happy hour specials ($2 Bud Light from 4-8pm) make this a solid pregame spot, especially since you might end up right back here at the end of the night.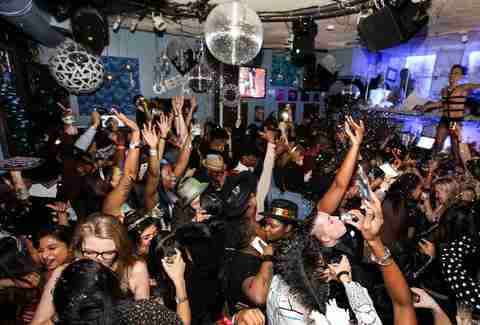 Greenwich Village
A high-energy, real-life ladies' Tinder
Dating back to 1991 (a time when queer women actually had to leave the house to meet each other rather than bond over The L Word on Twitter), this club is the second and final relic of Manhattan's lesbian going-out scene. In the old days, the neon flashing lights behind the bar, disco balls hanging from the ceiling, dance cages, and super sugary shots were like lady catnip, even with a weekend cover charge. If you're looking to dance and meet women, this is still the place to be, especially on Fridays and Saturdays when celesbian DJs take the turntable. Henrietta is Cubbyhole's big sister and you can walk from one to the other in 10 minutes, so you'll see similar crowds. And they are, after all, Manhattan's only truly lesbian bars.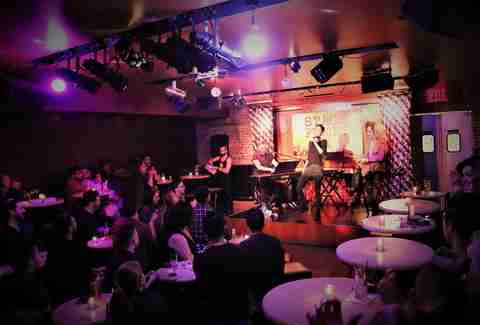 Hell's Kitchen
The genre's archetype
This may not be the best Therapy for social anxiety, but if you're soothed by Absolut-forward cocktails in plastic cups and hundreds of sweaty guys pressed up against you, start your treatment at this HK lounge. DJs, live music, and drag entertainment make this place a party nearly every night of the week. Visitors here have planned a night out and are laser-focused on fun.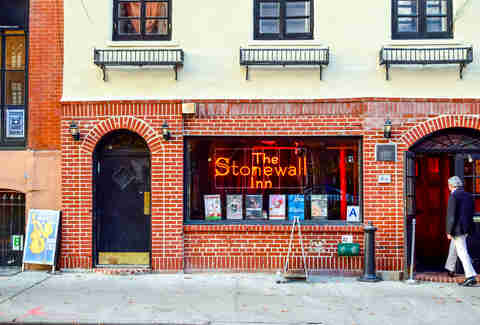 West Village
The all-are-welcome home of the gay rights movement, with booze
Stonewall's heroic role in kicking off the 1969 riots of the same name is celebrated each June during pride month. President Obama made the bar a National Historic Landmark in 2016, so expect to find a handful of tourists (including allies) at this cozy, bilevel watering hole where regulars run the show. Weeknights are all about drag bingo, singing competitions, and variety shows. Bigger parties abound on weekends, like Friday night's long-running Lesbo-a-gogo -- a go-go dance party on Stonewall's top level. Get ready for rainbow Jell-O shots.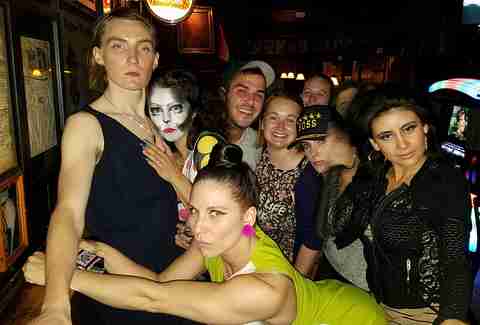 Greenwich Village
A pre-Stonewall historic stop
One of the oldest spots of its kind in New York City, Julius got its start as a grocery store in the 1840s and evolved into a full-fledged gay bar after about a hundred years. Visitors and lifelong New Yorkers drop in for a pint just to say they've been here, and neighborhood regulars have been coming back for the usual for decades.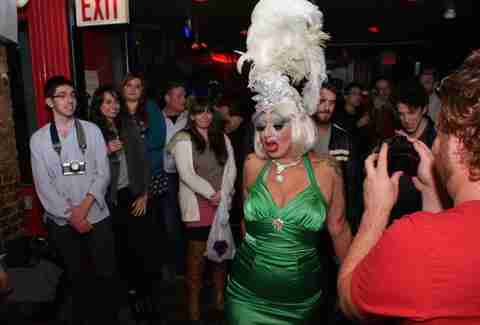 Williamsburg
With cheap pints and free food, you can't afford to skip this place
Gays from all corners of the borough gather here to drink, chain smoke, and socialize in a spacious outdoor garden. Metropolitan is the place to huddle by an indoor fireplace, enjoy free Sunday barbecue, or unwind with a cheap, unpretentious beer. It's easy to hang here and do little more than swipe through dating apps with a can of PBR, but queer comedy, karaoke nights, and drag shows provide low-key entertainment. All-night breakfast sandwich joint Bagelsmith is across the street, should you need a BEC for the ride home.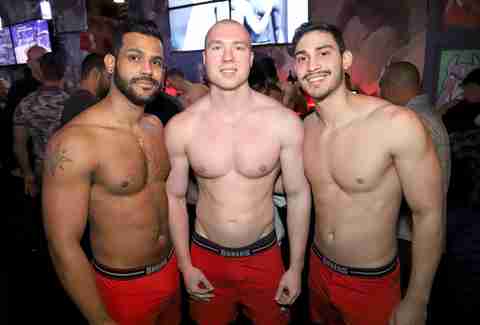 Flatiron
What if a gay bar, but sports?
A gay male equivalent to Hooters (I think?), the waitstaff at Boxers serves up beer and shots wearing nothing but, you guessed it: underpants! And sneakers, of course; they're running a business here. The patios are crowded on spring and summer weekends, when brunch crowds linger over draft beer and Major League Baseball. Football, basketball, and other balls are broadcast on big screens, making Boxers a unique sports-positive oasis in a sea of glittery Chelsea nightclubs. Locations in Hell's Kitchen and the UES draw similar crowds for a similar experience, and yes, guests may mimic the staff's attire. (All bodies are underpants bodies.)
Hell's Kitchen
Hell's Kitchen's slice of Westworld
Unapologetically campy in its country-western theme, Flaming Saddles is perhaps the only bar in the city where you can watch a drag show while shoveling chili and cheese topped Fritos straight from the bag to your mouth while drinking spiked sweet tea and celebrity spotting. Hell's Kitchen regulars make up a bulk of the tourist-light bar, and with two-for-one drinks before 9pm on weekdays, it's easy to see why the neighborhood comes out to this Wild West-style spot.
Park Slope
South Brooklyn's grown-up gay scene
If your favorite sitcom's neighborhood bar were a lesbian joint in Brooklyn, it would look a lot like Ginger's. Unlike Manhattan's gay bar scene, it's mostly free from recent college graduates. Instead, a diverse crowd of "young professionals" and "young families" (hi, Park Slope!) crowd into the wood-paneled spot for games of pool, drag bingo, karaoke, or televised sporting events.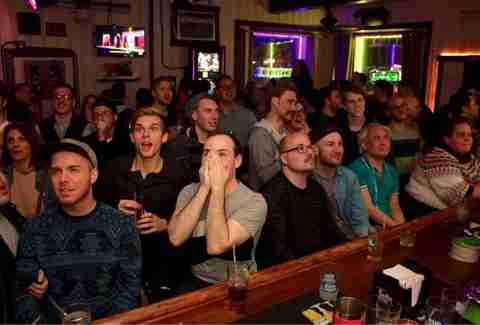 Astoria
Astoria's spot for Drag Race viewing parties
The surrounding neighborhood is rife with queer clubs, events, and bars, including this old-school dive right off the BQE. Known as the longest-standing and oldest gay bar in Queens, Albatross was a lesbian hangout until a change in ownership circa 2014 made the space more generally LGBTQ friendly -- meaning a pivot to mostly male clients. The floors are sticky, drinks are cheap, and events are almost nightly, including Drag Race viewing parties, drag bingo, and holiday drinking events. Efforts to reclaim Albatross' heritage with "Lesbian Nights" pop up every so often (follow the bar on Facebook). Anyone who is looking for a laid-back afterwork drink or nightcap sans straight people should adopt this no-frills Astoria bar as a living room extension.
Sign up here for our daily NYC email and be the first to get all the food/drink/fun New York has to offer.